About Waring Abbott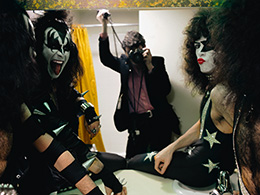 Abbott was born in the Deep South and raised in Venezuela. Specializing in celebrity portraiture, his career began with a photo of Kurt Vonnegut holding a bunny rabbit. His work has appeared in Time, Newsweek, People, US, Rolling Stone, The New York Times, and countless foreign publications.
He also found time to do album covers and photo spreads on KISS, Lou Reed, Richard Nixon, The Bee Gees, Leonard Bernstein, Led Zeppelin, YoYo Ma, The Who, Henry Kissinger, The Rolling Stones, Bob Dylan, Robert DeNiro, Michael Jackson, and thousands of others. In 2002, Abbott created the best-selling photo book
KISS The Early Years
(Crown) and is currently working on
Disco FEVER NYC Style
. After 35 years in his Tribeca studio and home, he moved 45 miles north in search of trees and space. Abbott continues to prowl the city streets while also finding subjects in the wilderness...